Funny Cat Tunnel bed Collapsible Crinkle Pet tent Kitten Puppy Ferrets Rabbit interactive Toys 2 holes Tunnel Pet cat nest

❤ COOL DESIGN: beautiful and practical cat tunnel nest, the perfect combination of toy tunnel and cat bed, built-in sound paper and toys, Add more fun.

❤ EASY TO USE: The thick bed and the wide tunnel are detachable and clean, and the exquisite bed curtains satisfy the cat's habit of hiding and increase the sense of security.
❤ PRACTICAL: If you have two cats, this toy is perfect for you, they can play together better, of course, this is luxurious for a cat , Full of your love
❤ BEAUTIFUL: Light matcha, Passionate bar, Romantic coffee, Multi-styles to choose from, Suitable for cats with different personalities.
❤ FOLDABLE:Can be folded to save space, easy to carry, length 126cm* diameter 27* mat length 55cm
Features:

Material: Polyester Cotton + Removable Cotton Padding
Size:126cm/49.60 inch long
Tunnel Diameter :27cm/10.62 inch
The Mat: 55cm/21.65 inch long
Color: Green (Matcha ), Coffee (Coffee) , Brown (Bar)
Applicable to: small animals such as dogs and cats
Applicable scene: play at home, outdoor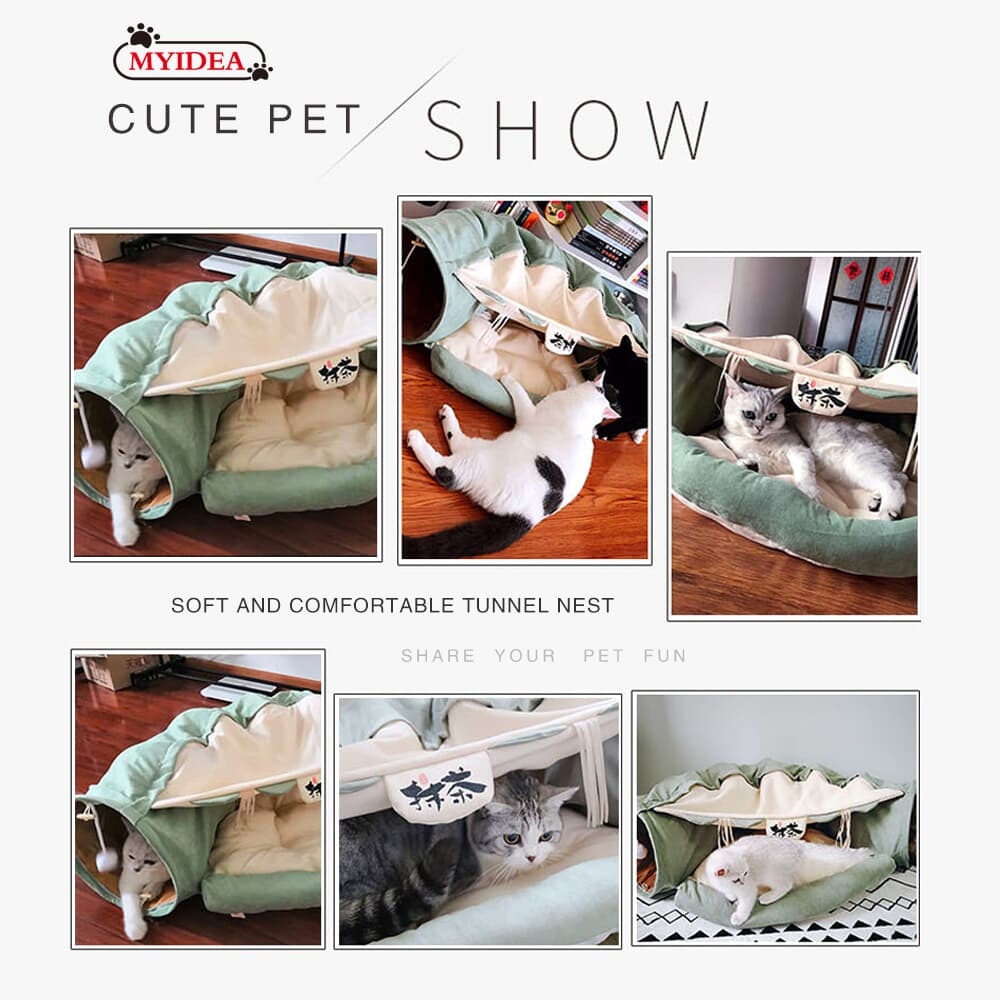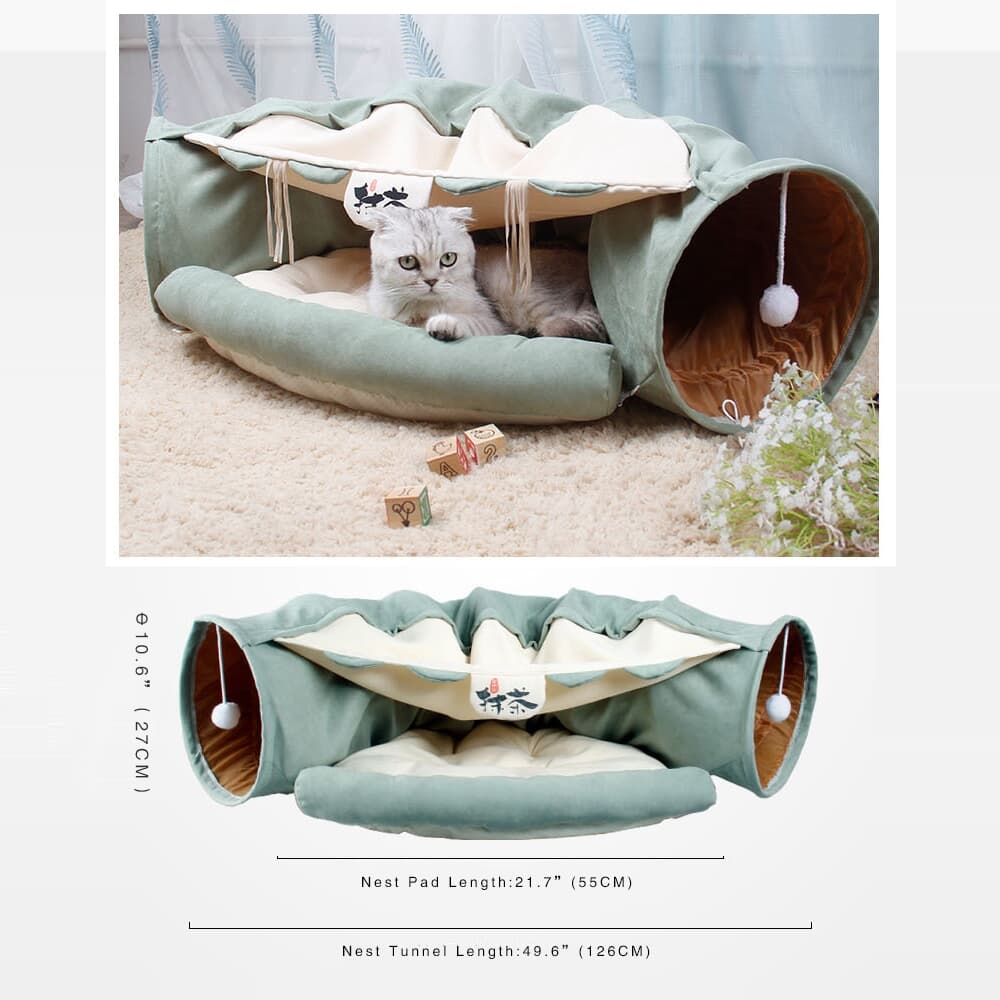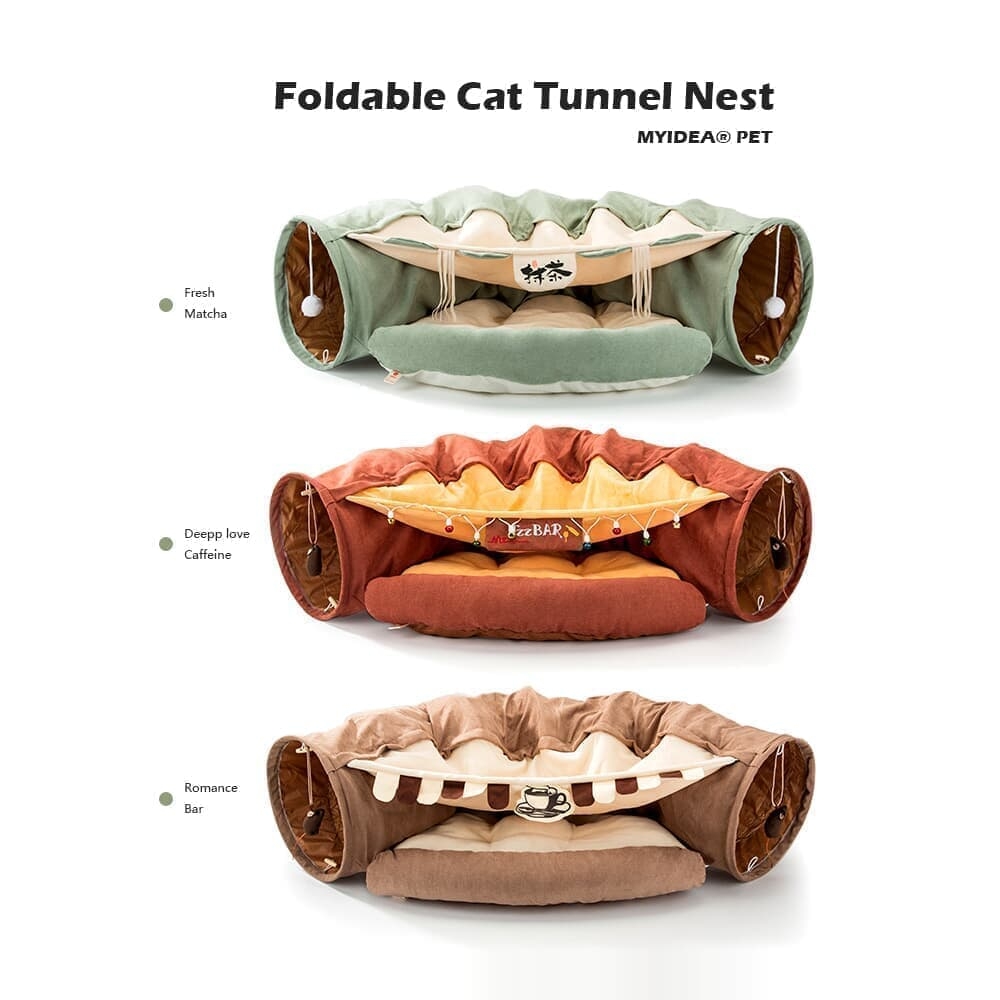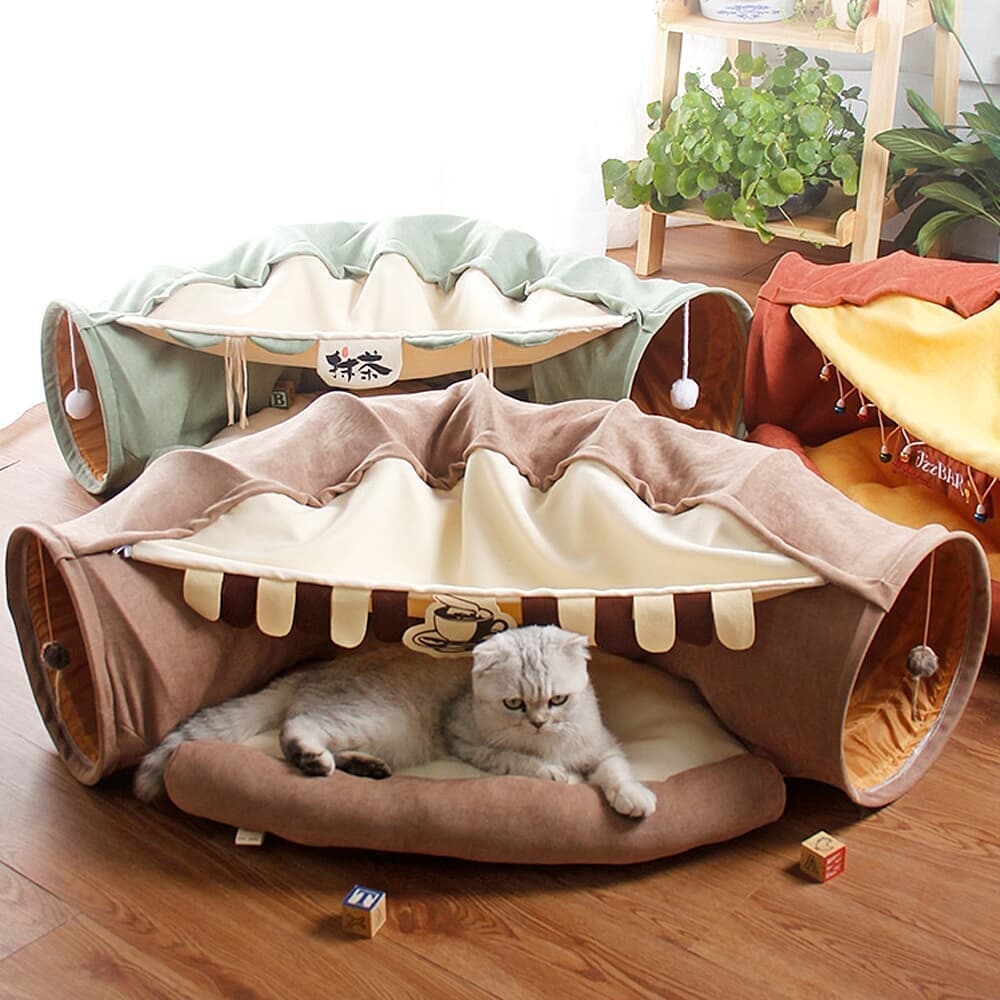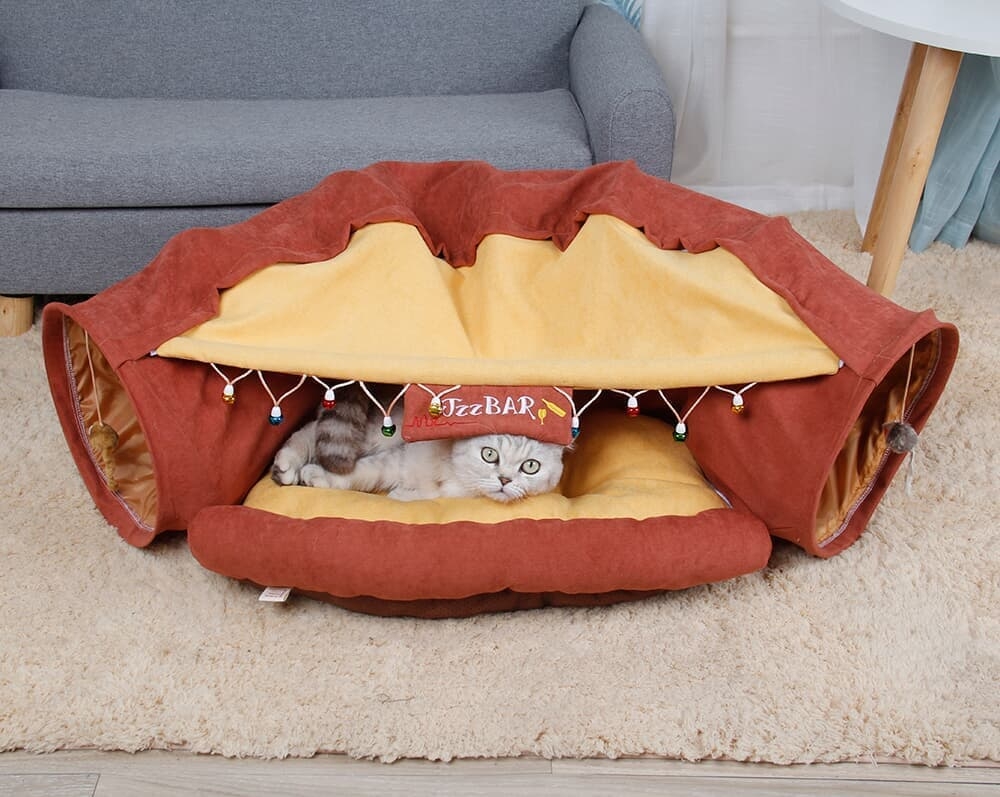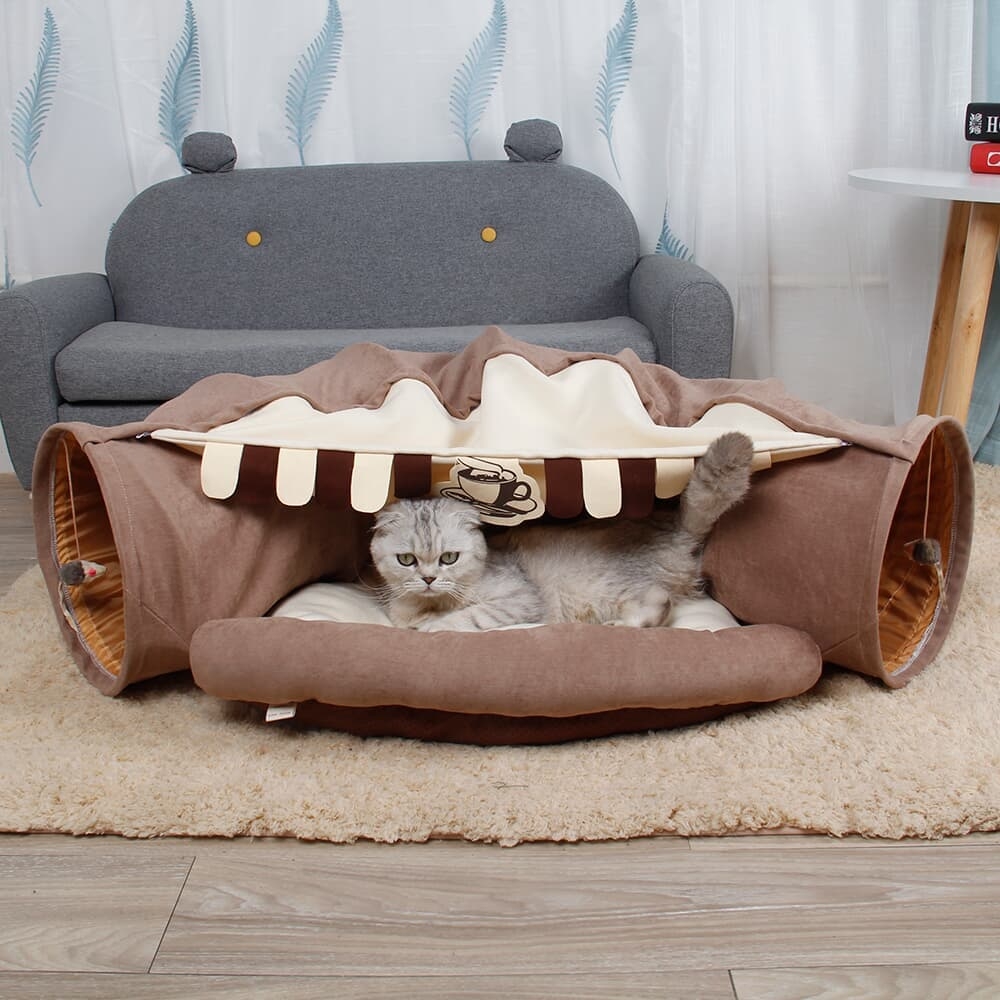 ByAnnaWednesday, 20 November 2019
When the tunnel cat litter was received, it could not be opened for the cat to play. The quality was very good and there was no smell. There are bells and toys at the mouth of the tunnel, attracting cats' attention is a must. The four cats in my family like it very much. They are tired in the tunnel and can take a nap on the cat litter. The design is great.
ByKyleMonday, 18 November 2019
The product is happy with me and my favorite cat, thank you!
ByBeckyFriday, 15 November 2019
Cool tunnel! Soft outside, rustling inside. cats love it, very high quality !
ByAlyssaFriday, 01 November 2019
My cat LOVES this. She's so happy laying on bed napping and running through the tub to play. Seriously great buy and pretty fast shipping.
ByC.CThursday, 31 October 2019
We bought this as a Christmas gift for our 5 year old cat. She loves it! When she is running like a crazy lady,( which she does a lot) she likes to run through the tunnel every time. This tunnel is a perfect length and plenty big for her to hide and have fun.Or lying on a comfortable cat bed, this curtain is a bit interesting. Plenty big enough for adult cats. We got her many gifts for Christmas, this tunnel seems to be her favorite by far. She is having fun with it for sure. I would highly recommend.
ByClay AikenTuesday, 29 October 2019
I think it came with invisible monsters inside, and they call my cat names, because it has held up to 1.This set is very beautiful, the tunnel and the bed can be separate and easy to clean. 2. My cat can fly through like he's on fire,The tunnel is curved, it is actually very long 3. The cat bed is very soft and comfortable, with a curtain, very creative 4. Some toys are hanging in the tunnel open, so practical. 5. Larger than my imagination, luxurious cat bed
ByPriscilla ZsigaTuesday, 22 October 2019
ByNicoleSunday, 20 October 2019
Bigger than I expected, my cat likes it,It has a soft material on the outside but not within the tunnel. When mine runs in the tunnel, he makes this crinkly sound. I am not sure what material it is inside but it feels similar to a childs play tent.
ByN. HelferichThursday, 17 October 2019
Awesome tunnel! Super easy to open up and my cats love hiding and racing through it. Good material that has seemed to stand up to their attacks well so far.Sometimes they also like to rest on the cat mat.
ByTrebecaMonday, 14 October 2019
We have a cat on crack. He goes crazy and loves things like paper bags and this tunnel will make a rustling sound when the cat passes, and there are small toys. The cat likes it very much.. This is doing the trick. Other crinkle bags are so tiny he wouldn't fit in them, he loves this item. Bonus is that it's easy to pack up and put away.i recommend it
ByPriscilla ZsigaMonday, 30 September 2019
BylibrarianTuesday, 10 September 2019
Very fast shipping. 2 weeks to Poland. Cats love it !
ByBoann WiddershinsTuesday, 13 August 2019
Very nice. They play a lot with it. They really enjoy it.Thank you seller!
ByB K MomMonday, 22 July 2019
Quickly delivered. Good quality. My cat really liked it.
ByNicole KoutsodendrisTuesday, 16 July 2019
ByDavid W.Monday, 17 June 2019
Hooray! finally something I bought for the cat that she actually likes. Awesome tunnel! Super easy to open up and my cats love hiding and racing through it. Good material that has seemed to stand up to their attacks well so far.This is an innovative toy, the cat bed can make them rest when tired
ByTaryn MiaTuesday, 04 June 2019
This channel is double-layered and very strong should last a long time, unlike some of the nylon ones that rip easily from a cat's claw. The diameter however was only 11 inches, would have been easier for my larger cat to play. Overall a sturdy tunnel that offers much fun for my two cats.Better than any bed!
ByCity DennisMonday, 27 May 2019
ByBridgetSunday, 19 May 2019
My kitties love this cat tunnel bed! I Our cat LOVES laying in paper bags and this was the closest I could find to something like that and it does not dissapoint! As soon as I put it down she ran into it. She naps, and plays in it. Highly recommend!!